Principal Message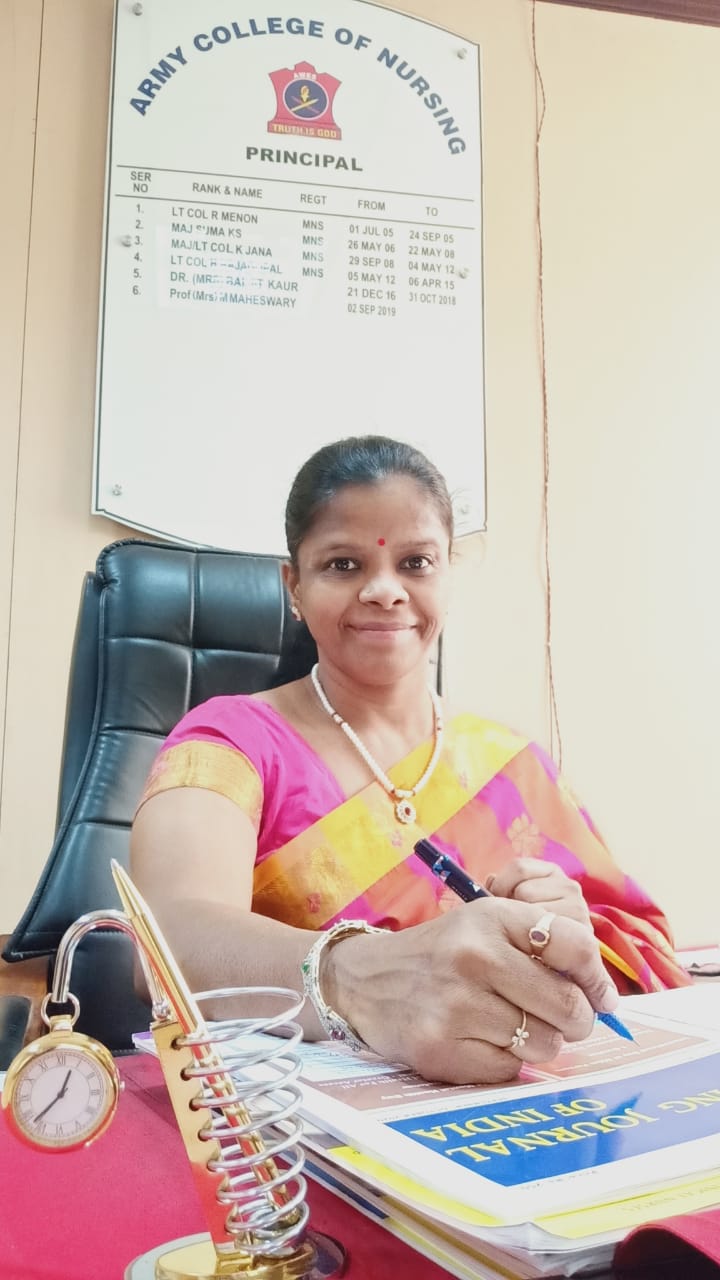 "Skill is the unified Force of experience, intellect and passion in their operation."

Army College of Nursing has been established exclusively for female wards of Serving Personnel / Veterans of Army under the aegis of Army Welfare Education Society (AWES). The society works with the mission "to provide enabling learning environment with empowered faculty and required infrastructure for children to realize full potential and face challenges of life", which also outlines the Nursing Philosophy to prepare students to develop ability in critical thinking, problem solving and take up responsibility in continuing education for professional effectiveness.

Army College of Nursing strive to achieve quality in education while ensuring overall development. The college creates an inclusive environment that reflects the vision, mission goals and values. This stimulates to develop professional Nursing Graduates with expertise to empower health and promote health with quality and access through leadership, research, policy and provision for Healthcare. We facilitate student centered quality evolution to contribute to the needs of Nursing manpower, development of the country, more into leadership positions in Nursing, empowered to contribute towards meeting the issues and challenges confronting Nursing professions.

The students acquire the clinical skills from Military Hospital, Jalandhar Cantt and Command Hospital, Chandimandir, which helps to ensure the practice of high quality nursing care with professional values and code of ethics, with high level of professional attitude, knowledge and skill competency.

The unique feature of ACN is that besides focusing on academics, the importance on physical fitness is ensured by conduct of various Sports activities throughout the year. Conduct of Sports and Cultural events is an annual feature of the society to ensure overall development as well as to inculcate the team spirit and make college proud of themselves. Thus, Youth Festival is conducted annually by the society wherein all the colleges participate in various events. In the Youth Festival-2020, the college bagged Rolling Trophy for "Best Institute in Sports (Girls)"

The college retained "University Overall Rolling Trophy in Sports and Cultural Events" conducted by Baba Farid University of Health Sciences, Faridkot consecutively for two years. The students also performed exceedingly well in XXVIII SNA Biennial Conference conducted by Trained Nurses Association of India, Punjab State Branch.

By the Grace of the Omnipotent, we the ACNites are constantly, striding ahead to rewrite the stories of excellence. Patience, Perseverance and Perspiration have made it possible for the us to achieve academic excellence.

Jai Hind.
© Army College Of Nursing 2021-2022. All Right Reserved | Designed by Hispirits Technoligies